SoleCup Donates Cups to Superhero Nurses on the Frontline!
SoleCup is a Birmingham based company that sells reusable coffee and loose tea cups. It was started by Annie Powers, a 25 year old Environmental Engineering graduate. The company has grown out the idea that using less while caring for the environment leads to a sustainable lifestyle. SoleCup is a long-life multi-use reusable travel mug, perfect for coffee but uniquely it can also be used for tea infusions and smoothies too.
The company launched in March, and in April were contacted by a nurse who works at the Royal United Hospital in Bath.  The nurse said they would be a safer alternative in front-line environments for nurses needing hot drinks.  As the cups have lids and close the contents would not become contaminated.  As a result SoleCup offered to donate cups to the nurses and to the QE Hospital in their hometown Birmingham.  
After a tweet to a former BBC Dragon, SoleCup were chosen by Theo Pathitis as a winner of his Small Business Sunday competition.  Theo has retweeted the winners to his 500k subscribers and invited Annie to meet him in person. 
'I am amazed by the response so far,' says entrepreneur Annie. 'To have the opportunity to support the NHS has been an honour,  and to by chosen by Theo was a great suprise'.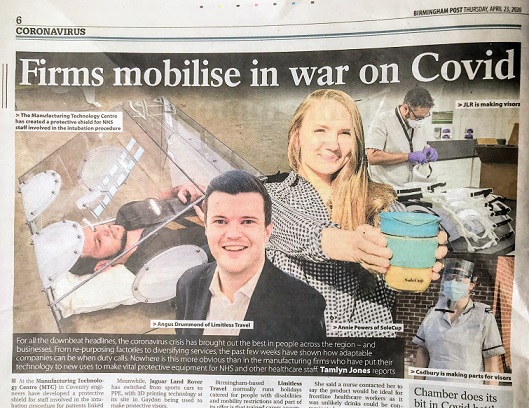 So again we'd like to say thank you to all the NHS staff keeping the country together!
You are superheroes!
If you want the full story from the Birmingham Post and Mail it's here.